Welcome to The LaLiT Mangar
Nestled in the middle of Mangar Bani Valley, a verdant and beautiful forest grove with captivating natural ambiance, The LaLiT Mangar is an experiential hotel that offers 35 luxurious suites.
Home to about 6 lac trees, in an area of about 677 acres, The LaLiT Mangar gives you room for indulgence galore. For the outdoor soul, activities like rock climbing – under expert guidance, cycling and well-planned picnics amidst the valley are available. Sunbathe for hours, experience rural activities or head for natural therapies at Rejuve – The Spa.
Come, experience the sound of silence at The LaLiT Mangar.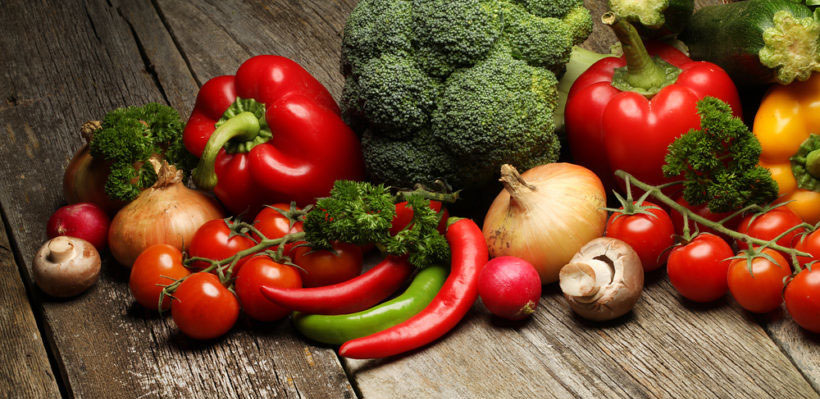 We Serve What We Grow
We care for our guests and aim to serve them food that is of supreme taste and good for health. All the ingredients used in our recipes such as basil, lemon grass, coriander and other vegetables are produced through organic farming in our in-house farms.
In the nexus of the Aravallis
One of the oldest plateau ranges of the world- The Aravallis date back to the pre Indian sub continental collision. Believed to be 670 million years old, it is celebrated as one of the last remaining patch of natural forest in the region of Haryana.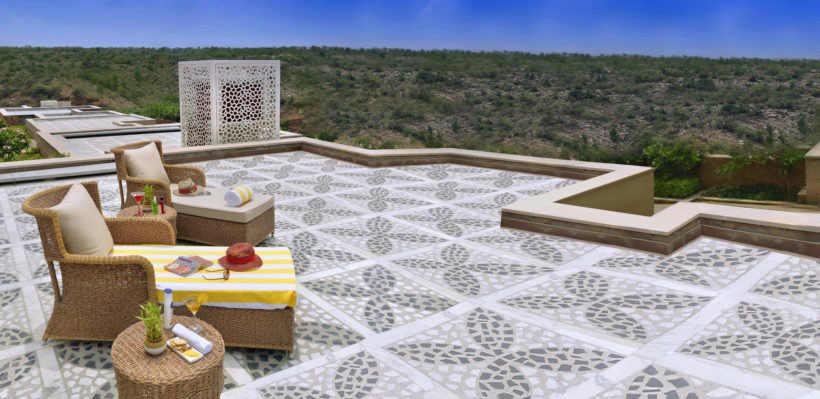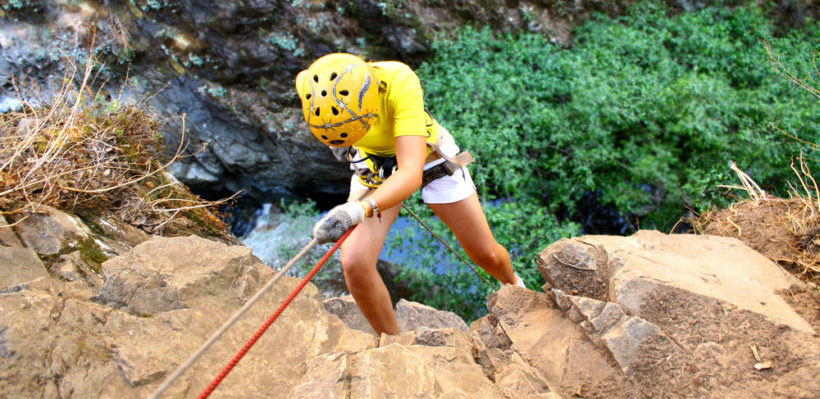 Recreational Activities
The LaLiT Mangar offers a range of outdoor activities in the nearby vicinity – Rock Climbing, Rappelling, Zip lining, Zorbing, ATV, Obstacle course etc. Explore the adventurous side of you, let yourself be free and test your strengths.
Unique Rammed Earth Architecture
The unique concept of earth rammed architecture uses raw materials like earth chalk and gravel in layers. Fifteen-inch thick walls are insulated thereby, remaining cool in summer and warm in winter. Each wall has a different pattern, shade, and color as a result of the individual working on that wall and the soil mix generated in it.
Rammed earth is non-toxic, non-polluting, and it breathes. It is low in embodied energy and extremely comfortable to live in.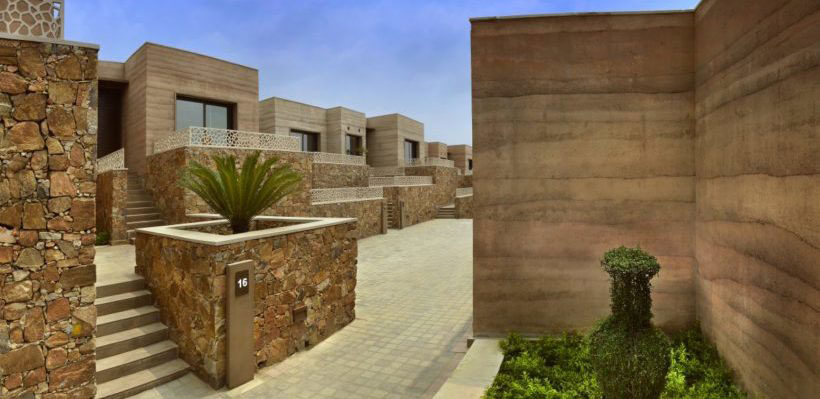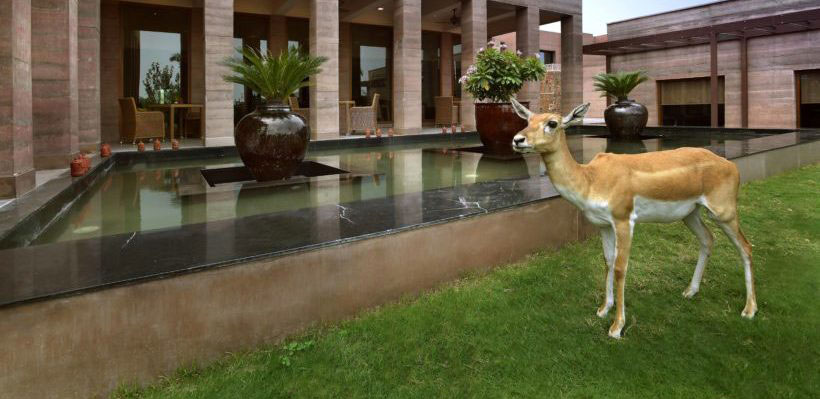 Mangar Bani
Mangar Bani valley is a verdant, breathtakingly beautiful forest grove. It harbours rich flora and fauna, and a captivating natural ambience. Revered by the locals and protected through strictures on wood-cutting and grazing, the valley has tremendous historical significance.
Experience Mangar
The LaLiT Mangar Experiences

With an awe-inspiring view of the valley along with the comforts & warm hospitality of The LaLiT Mangar creates the perfect platform to sync your mind, body & spirit.

More
Location
Camp Wild Road Near Mangar Police Chowki, Faridabad-Gurugram Road, Faridabad, Haryana - 121001
Indira Gandhi International Airport

31 kms

Hazrat Nizamuddin Railway Station

35 km

Gurugram

22 km

Faridabad

15 km

New Delhi

40 km
MORE
Concierge Service
The LaLiT Concierge assists with sightseeing & tour arrangements, car rentals, air & rail ticketing, babysitting services, luggage assistance as well as room reservation throughout India.
In Room Dining
For a relaxed dining experience within the comfort of your room, the 24-hour In-room dining service with a multi-cuisine menu is always a pleasant choice.
Luxury transfers
Need a ride? Business or Leisure! Our 24/7 transfer service will take you to your destination.
Aum Shop
9:00am to 10:00pm
The AUM Shop has an assortment of handicrafts, art & craft, semiprecious jewels, and other souvenirs.
City Attractions
The residents of Mangar claim their village is 700 years old. The rocky hills surrounding it are covered with trees unique to The Aravalli Range, the oldest Plateau mountains in India.
Contact our 24/7 Concierge to assist you for the marvelous experience.
It has been a very pleasant experience in spending a couple of days at your new property – The Lalit Mangar. It is not only the location and build of the property surrounded by the rugged Aravalis in its full splendour which is captivating but the life and soul in the property is infused by an outstanding and dedicated team of professionals who man this property. I am glad that we had taken over the entire property for celebrating a family event as every aspect of service was flawless. The rooms were large and well done up with an impressive assortment of in-room amenities. The service at the restaurant/bar was extremely efficient and there was an eagerness amongst the staff to ensure that the best services are provided. The cuisine was delectable and delicious confirming the mastery of the chefs in providing an array of culinary delights. A special word for Mr. Steve Pereira who has marshaled his troops exceptionally well at Mangar and have always been keen to interact with the guests to find ways to improve the deliverables even further. You have been extremely gracious to wish me the very best in person during your Mangar visit and it has been a real pleasure and privilege to be introduced to you. I wish "The LaLiT Group" the very best hoping that many more "Mangars" are to be unveiled in the years to come.

Joy Basu

Sr. Advocate, Supreme Court of India
*We respect your privacy. Your Information is safe with us.
Connecting now...
Connection Established.
Number verification successful
Number verification failed.
Call in progress.
Call Completed Successfully.
Call ended.
Agent busy.
Oops! Something went wrong.
00:00:00