Welcome to The LaLiT New Delhi
The LaLiT New Delhi is located in central Delhi in close proximity to key commercial and business locations. The hotel operates 461 rooms and suites and offers over 39,000 square feet of conference and banqueting space. It also includes an art gallery and a variety of shops. The LaLiT New Delhi operates three restaurants, namely, Baluchi, OKO and 24/7, which offer various cuisines. The hotel also operates a bar, a pastry shop and a coffee shop. The LaLiT New Delhi also operates a night club, Kitty Su.
The LaLiT New Delhi won the National Tourism Award 2013-2014 for the "best hotel based meeting venue (joint winner)" in 2015 and the National Tourism Award 2014-2015 and 2015-2016 for "hotel providing best facilities for differently-abled guests" in 2016 and 2017, respectively. Kitty Su at The LaLiT New Delhi was the only night club from India to feature in DJ Mag's top 100 clubs of the world for the years 2015, 2016 and 2017. Kitty Su also received the "best night club of the year" award at the Indian Restaurant Awards in 2015, the Times Nightlife Award for "best night club" in 2015 and 2016 and the "best night club NCR" award at the India Nightlife Convention and Awards in 2017. The Grill Room received the "Delhi's best European fine dining restaurant" award at the Times Food Guide Awards in 2015. Baluchi received the "best Indian restaurant in a hotel" award at the Eazy Diner Foodie Awards People's Choice in 2017.
The Lalit has always been proud of its high hygiene standards of international norms. We have redefined our hygiene and cleaning protocols under our new program; "WE CARE", keeping in mind the guidelines laid down by health authorities.
As a redefined process and mandated by health authorities you are requested to submit a Self-Declaration form and inform your travel history along with the purpose of visit. Please find below the link of Self Declaration form. Also as per government advisory it is mandatory to have the Aarogya Setu App downloaded in your phone.
Thank you for your co-operation and we look forward to welcoming you at The Lalit – your home away from home. 
GUIDELINES FOR INTERNATIONAL ARRIVALS
As per Government regulation, in wake of Covid-19, Swimming Pool will not be operational until further notice.
Note: For your safety, security and well-being, we do not permit any outside Food & Beverage and all types of Hookah's (with/without Tobacco) and other external services into the hotel premises.
The LaLiT New Delhi

Best facilities for the differently abled guests

The Grill Room

Finest Restaurant of Asia

The LaLiT New Delhi

Certificate of Excellence

Baluchi - Best Mughlai Cuisine

Delicious Food Awards 2018

The LaLiT New Delhi

Hall of Fame Award - Best Facilities for Differently Abled Guests

OKO - Favourite New Opening of The Year 2019

Peaklife Gourmet Awards
At a Glance
Baluchi

Kitty Su

Luxurious Rooms

Rejuve - The Spa

Swimming Pool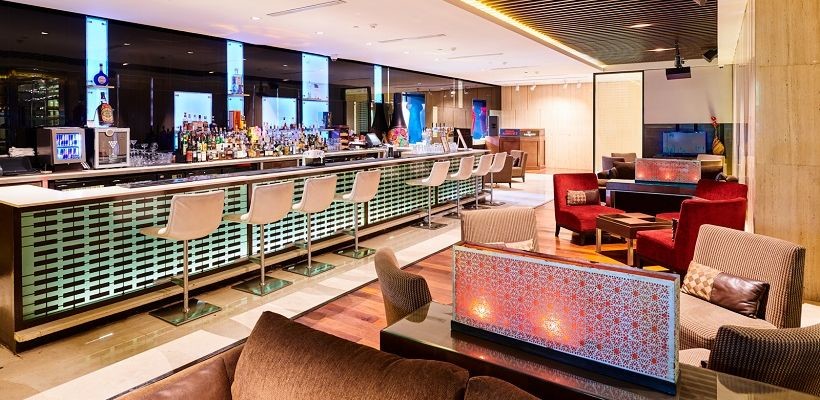 24/7 Bar
A stroll through 24/7 brings you to the bar that is open well 24/7! Perfect unwind destination with  cocktails, spirits, finger food, with lounge music to add to the ambiance.
Art Junction
The LaLiT New Delhi is the only hotel in Delhi to have "Art Junction" – much more than just another art gallery. It is a  dedicated space for displaying art and showcases works of over 5000 artists, both upcoming and established.  Art Junction extends a warm and heartfelt welcome to every art aficionado and promises a cherished  experience.
Naresh Kapuria, the curator of the Art Junction creates unique artworks made of oil, charcoal and watercolor paintings to sculptures, photographs, and installations. So, there is a lot to look out for.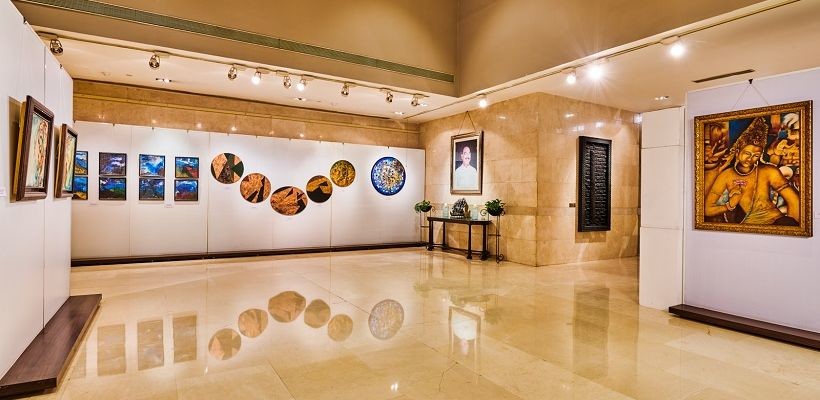 The Lalit Legacy Lounge
Located on the third floor of  the luxury hotel, The Lalit Legacy Lounge is an exclusive set up for our elite guests.
Experience here the peak of luxury and classy atmosphere and sip the finest of coffee and savor the delicacies by The LaLiT.
Hi-Tea: 3:30 pm to 5:30 pm
Cocktail (IMFL): 6:30 pm to 8:00 pm
Well Located
Barakhamba Avenue Connaught Place New Delhi-110001
International Airport:

22 Kms / 40 Minutes

Domestic Airport:

16 Kms / 30 Minutes

City Centre:

0.5 Km / 5 Minutes

Railway Station:

3 Kms / 10 Minutes

Trade Fairgrounds:

3 Kms / 10 Minutes

Embassies:

6 Kms / 15 Minutes
MORE
Taking Care of your Needs
Concierge Service
24 Hours
To make your trip smooth all the way, The Lalit Concierge assists with sightseeing, tour arrangements, air & rail ticketing, transportation, babysitting services, we are at your service, 24 hours.
In Room Dining
24 Hours
For a relaxed dining experience within the comfort of your room, the 24-hour In-room dining service with a multi-cuisine menu is always a pleasant choice.
Luxury Transfers with Wifi
24 Hours
Need a ride for business or leisure? Our 24/7 transfer service will ensure that it is a smooth one all the way to your destination.
E-Butler Service
24 Hrs
Our Butler service is always at hand to deliver everything you want. Should you wish for anything from a perfectly ironed business suit to last minute traveling plan, no wish is unattainable for us.
AUM Shop
11:00 am to 8:00 pm
Located on the first floor, The AUM Shop has an assortment of fashion accessories, semi-precious jewellery, herbal products, books, CDs, candles, toys and more.
Services for Differently Abled Guests
We offer a pleasant stay to our guests with no exception for differently abled ones. Besides that our associates are also sensitive to their needs enabling a comfortable & luxurious stay with us.
The Lalit Aviation
The concept of Private Luxury Air Charter Services through The Lalit Aviation is specially designed for our discerning guests. This service adds the luxury and style quotient to your travelling.
City Attractions
New Delhi is teeming with ancient monuments and remnants of structures that speak volumes of our glorious history. Along with car-thronged avenues, brilliant billboards, and huge traffic on roads, the historical sites contribute to the essence of the city's diverse culture and personality.
When visiting places in Delhi, rely on our expert 24-hour Concierge to guide you to the best tourist spots, historic sites, and shopping destinations just minutes away from The LaLiT New Delhi.
"A very beautiful hotel, definitely global 5 star standard. Outstanding level of care & hospitality we received from the staff. We got endless assistance when my daughter got ill during the stay but felt safe and in good hands.We have been deeply touched and highly appreciate the service provided to us. I would highly recommend this hotel to everyone and especially if you are travelling with children. The Lalit will surely be our home when we are in Delhi the next time we visit India! "

Shalini Permal

HSIE Teacher - Casula High School, Australia

"I have no words to thank you for making it so tension free and comfortable. Truly - Truly appreciate ! Thanks to Manoj for care & super service. "

Boman Irani

Bollywood Actor

"It is with the utmost delight and joy, that i herein express my appreciation to The LaLiT Hotel, management & staff for the warm reception & hospitality extended to me, my family and the entire delegation. Our stay has been pleasurable indeed. I wish you a prosperous future and hope to return in the future."

H. M. King Mswati III

Kingdom of Swaziland

"Very good & comfortable! Thank you for your hospitality."

Yoshikazu Makino

Senior Executive Director - Denso Corporation

"Heart Warming!! Love... Mahesh Bhatt"

Mahesh Bhatt

Indian film Director, Producer and Screenwriter

"First class accommodations, triple the service! Keep up the good work!"

H. E. Tshibanda N'tungamulongo

Minister of Foreign Affairs and International Cooperation Democratic Republic of Congo

"A most hospitable and warm reception we enjoyed throughout our stay. Quite memorable. I believe you will maintain this high standard. Many thanks."

H. E. Muhammadu Buhari

President of Nigeria

"Service was amazing!"

Lil Jon

American Rapper

"I have had the most beautiful time. I cannot thank you enough for hosting me. The energy and culture here is magical and my accommodation have been the very best!By far this is one of my best experience I had with a hotel staff. So much love for Kitty Su & The LaLiT, New Delhi."

Violet Chachki

American Drag Queen

"Thank yo so much for all support, guidance and on the ground assistance that you and your colleagues provided to me, my team and media accompanying me during my recent visit to Delhi. The services was excellent & I know we all felt very well looked after. "

Sadiq Khan

Mayor in London
Please select your country and enter your phone number
*We respect your privacy. Your Information is safe with us.
Connecting now...
Connection Established.
Please verify your number using the code below.
11001
Number verification successful
Number verification failed.
Call in progress.
Call Completed Successfully.
Call ended.
Agent busy.
Oops! Something went wrong.
00:00:00

Close
We use cookies to enhance your website experience. By continuing to use this site, you accept these cookies. See our Privacy Policy for more information on cookies and how to manage them.