Welcome to The LaLiT Grand Palace Srinagar
Designed and built by Maharaja Pratap Singh in 1910, The LaLiT Grand Palace stands witness to key events in India's history and proudly continuous the royal legacy with élan. Encircled by the Himalayan ranges and overlooking picturesque Dal Lake, it operates 113 well-equipped palace guest rooms, including 10 cottages boasting of magnificent decor and over 4,000 square feet of banqueting space, conference facilities, and a shopping arcade.
Located just minutes away from the International airport, The LaLiT Grand Palace Srinagar operates three restaurants, The Chinar (which includes The Alfresco), The Chinar Garden and the Dal Bar. The palace also has The LaLiT Suri Hospitality Group's signature spa - Rejuve along with a salon, gymnasium, health club, and all-weather swimming pool.
The LaLiT Grand Palace Srinagar was awarded "The Best Luxury Hill Resort" in 2017 at the Outlook Traveller Awards.
INCLUSIVITY AT THE LALIT
The LaLiT is a safe place, where we welcome everyone without any discrimination on the basis of age, background, race, physical abilities or ethnicity. Our message to the world is #PureLove and we celebrate and embrace diversity. Our desire is to create a company and a culture where every individual is respected and given the freedom to learn and grow.
WHY INCLUSIVITY ?

As a brand, we pledge our support to employees irrespective of their colour, gender or orientation. It not only brings creativity but also drives originality of thought and helps in understanding our customer better. And as an employer, being inclusive gives a sense of empowerment to our employees and at the same time sets an industry standard that can pave the way for a bigger change in the society.
The LaLiT, has made numerous efforts to help skill people from the marginalized communities such as differently abled, acid attack survivors and LGBTQ+.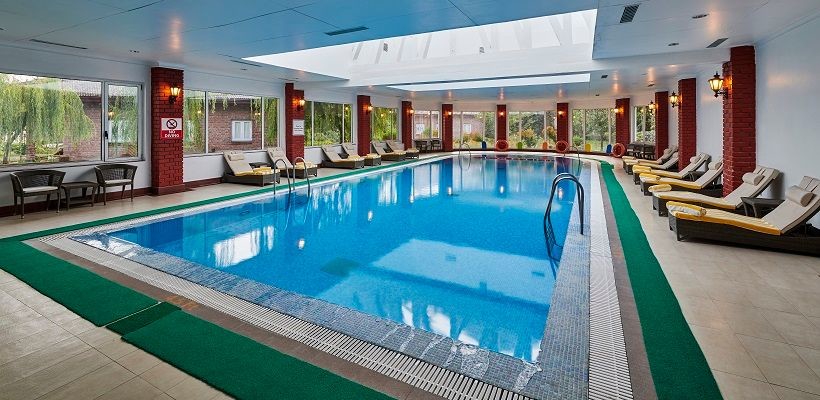 All Weather Indoor Pool
After a long day of traveling or sightseeing, there's nothing like a refreshing dip in the pool. The LaLiT Grand Palaces temperature controlled indoor swimming pool takes your luxury quotient higher and fulfills all your comfort while swimming.
Heritage Palace
Formerly the palace residence of the Maharaja of J&K, The LaLiT Grand Palace lies in the eastern part of the city with its sprawling lawns overlooking the Dal Lake. The historic and grand luxury property seamlessly combines 5-star amenities with distinguished antique furniture and fittings, rich upholstery, ethnic carpets and local handicrafts.
The heritage hotel has received prominent guests including Lord Mountbatten. The Chinar Tree in the Palace courtyard was once the site of meeting between Mahatma Gandhi and Maharaja Hari Singh.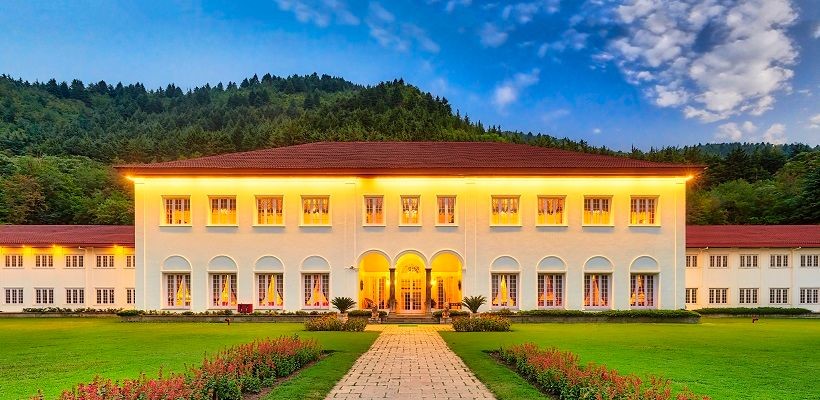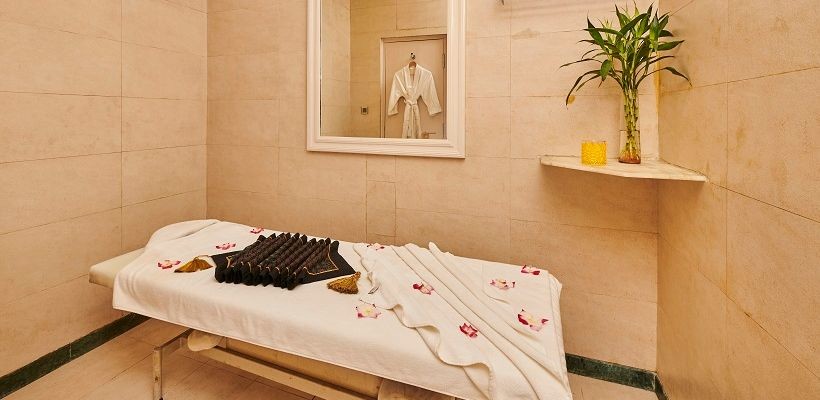 Rejuve - The Spa
Rejuve - The Spa, The LaLiT Suri Hospitality Group's signature brand offers a complete holistic experience encompassing aroma, ayurvedic, herbal and natural therapies, color healing, and yoga. Rejuve also has a salon, state of the art gymnasium and an all-weather swimming pool.
Well Located
The LaLiT Grand Palace, Gupkar Road, Srinagar, Jammu & Kashmir (India) Pin - 190001
Srinagar International Airport

18 Km

Railway Station

13.9 Km
MORE
Taking Care of your Needs
24/7 Concierge Service
The Lalit Concierge helps with arranging tour, transportation, air/rail ticketing, valet stopping, luggage service & helps to book a room for other hotels in different cities throughout India.
E-Butler Service
The LaLiT's Butler service is there to deliver everything you want. Should you wish for anything from a perfectly ironed business suit, to last minute travelling plan, or maybe a timely wakeup call and bed tea, no wish is unattainable for us.
In Room Dining
For a relaxed dining experience within the comfort of your room, the 24-hour In-room dining service with a multi-cuisine menu is always a pleasant choice.
Luxury Transfers
Need a ride? Business or Leisure, our 24/7 transfer service will take you to your destination.
Aum Shop
9:00am - 11:00pm
Located at the lobby level, the AUM Shop has an assortment of fashion accessories, semi-precious jewels, herbal products, books, ethnic cloths, cashmere shawls, decorative candles, handicrafts & more.
The Lalit Aviation
The concept of Private Luxury Air Charter Services through The Lalit Aviation is specially designed for our discerning guests. This service adds the luxury and style quotient to your travelling.
City Attractions
Surrounded by an arc of the majestic Himalayas, with the mesmerizingly placid Dal Lake in the center, this valley of shrines, fortress, mughal gardens, and magnificent Chinar trees, is the epitome of paradise on earth.
Magical heaven for nature admirers

Srinagar houses the Crown of Indian Land, The Himalayas & also well known for its Tulip & Mughal Gardens. One can find ample of beautiful park...

View All

Shopping Places

Srinagar is indeed a popular shopping destination because of the array of items available that are unique to this region like the exquisite Kashmiri c...

View All
"Thank you for your Love, Warmth, & Hospitality! The staff is very charming & Helpful! The Food is excellent! Love! "

Anupam Kher

Bollywood Actor

"Kashmir is my homeland. My stay here gave me the same feeling of my home. We were really taken care and made to feel belonging to this place which is the most beautiful place in the world. Right from the gali keeper to everyone at the reception to the restaurant are the true representation of Kashmir culture which believes in Meheman Nawazi. God Bless you all "

Ashok Pandit

Film maker and social activitist

"Thank you very much for your hospitality. Look forward to returning soon. Best Wishes! "

Farhan Akhtar

Bollywood Actor

"The Hotel is beautiful and the service was excellent. thank you all, we had an excellent stay. "

Jackie. C. Shroff

Bollywood Actor

"Beautiful place and extraordinary service. So helpful and efficient. My special compliments to the chef for some great food. A wonderful hotel.Thank you!. "

Kareena Kapoor Khan

Bollywood Actress

"Excellent Stay! I have been here, I will come again, Insha Allah. All the best to my dear friend Jotiji with love to her and my kind memory of Lalitji."

Najma Heptulla

Indian Politician

""A fantastic couple of days at The Lalit - spectacular surroundings and the most astonishingly efficient, pleasant, and pro active service from Bikramjeet and his colleagues. What a wonderful experience to be in the compound and beauty of The Lalit and of Srinagar, in their exquisite palace……….. A true patronage…. Thank you." "

Ranbir Kapoor

Bollywood Actor

"For everyone at The Lalit Grand Palace Srinagar. Such warm and tender times I came back to....and many more times to look forward in the near future....Insha Allah. Love every moment with joy and love!!!! God Bless,....See you soooooon."

Rekha

Bollywood Actress

"Old Memories came back. Thanks! "

Salman Khan

Bollywood Actor
*We respect your privacy. Your Information is safe with us.
Connecting now...
Connection Established.
Number verification successful
Number verification failed.
Call in progress.
Call Completed Successfully.
Call ended.
Agent busy.
Oops! Something went wrong.
00:00:00